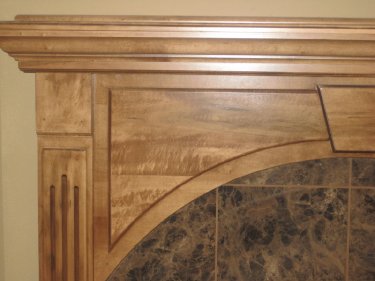 Question: Can you add stain to varnish to shade it?
Answer:  Yes, but be careful…
Shading has become popular in lacquers.  Lacquers can only be used in a sprayer (or at least the catalyzed lacquers that builders seem to be in love with).  You can do something similar with varnish but the amount of stain you can add to varnish is very limited in comparison to lacquer.  Adding stain to varnish to shade it slightly can cause a real problem if you add too much.  It can separate while drying and destroy your finish.  In addition, it is advised to avoid it entirely if you have universal colorants at your disposal and you can get the same finish by adding those to the varnish.  Since universal colorants are n longer universally carried by professional painters you can add a very small amount of stain to shade your varnish to achieve a darkened look.  This occurs in several scenarios:  Old casing with new inserts on windows, new doors with old jambs, where a shoe meets a new wood floor etc etc etc.
The scenarios are really endless but the important thing to know is that if you do it with a varnish, it can be brushed or sprayed where as with lacquers you are more limited.  Below is a pic of some doors that were replaced in a home with a fire.  Most of the doors were OK and kept in the house but the owner wanted to speed up (slightly) the new doors with a shaded varnish so we did this in a sprayed finish.  They looked great.