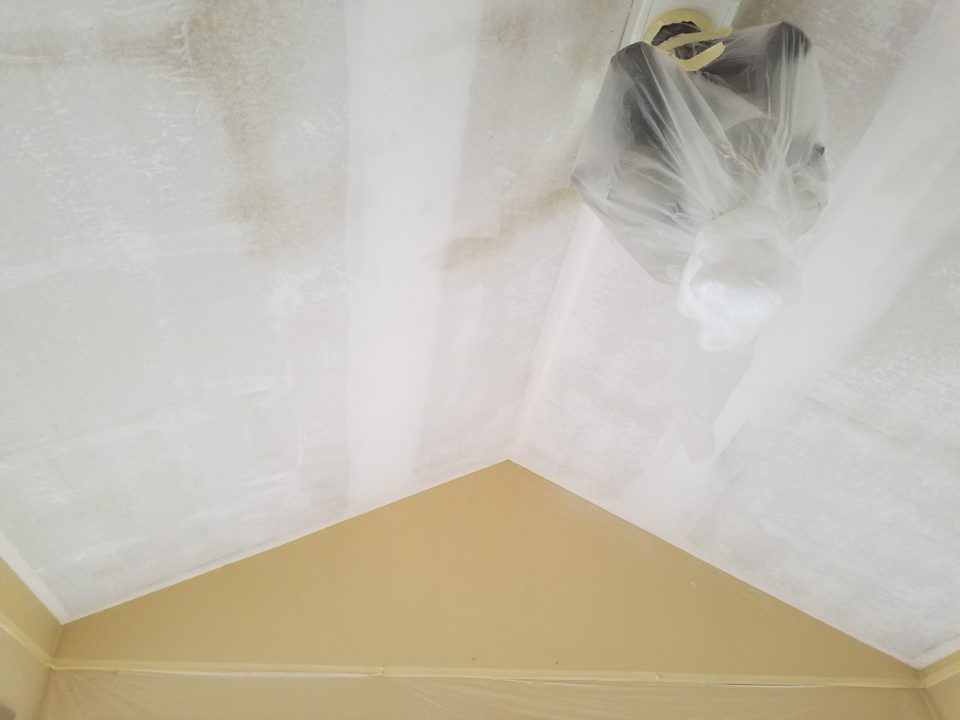 When homeowners update their homes, they often consider going from a popcorn texture to a smooth or knocked down texture.  A simple step to determine how much work is involved is to test how the existing texture will come down (easily or hard).  To test the ceiling surface you need to protect all surfaces in danger of spillage.  Wet the ceiling, let the water dwell on the surface and then scrape down the existing texture.  At that point you will be able to tell how easily the existing texture will come down.  In some cases, the popcorn texture will come down easily and in some cases it will be very difficult.  In cases where it comes down easily, the homeowner may have the option to go to a flat/smooth ceiling for the same price as a knock down.  In cases where it does not come down easily (generally this happens if the popcorn has been painted several times or was primed with oil or shellac) the ceiling will likely need a lot of skim coating.
The reason its important to test the existing texture is to ensure the company that intends to do the work (as well as the homeowners who are paying for the work) know what to expect with regard to the project:  days to complete the project, what to expect as far as staging, cleaning requirements, texture options and also the correct price for the job.
Complete Custom Painting did the pictured popcorn texture removal job in 2018 in Mahtomedi, MN  The homeowner went from a popcorn texture to smooth ceiling.  Since we were also painting the walls, we taped to protect the windows and floor and simply cleaned the walls prior to painting (which we would have done anyway).  The prep work was clean as we set out painters plastic angled to drop all wet texture on top of another piece of plastic.  The homeowners wood floor was clean of all dust and we texture.
It turned out great and was completed in 3 visits.  Day 1:  Wet and Scrape down the popcorn texture.  Day 2 prime the ceiling and skim tape joints where needed at end of the day.  Day 3  Sand mud, spot prime mud, fully paint the ceiling (2 coats), clean up.
Complete Custom Painting 651-336-0561